How Much Does an Uncontested Divorce Cost?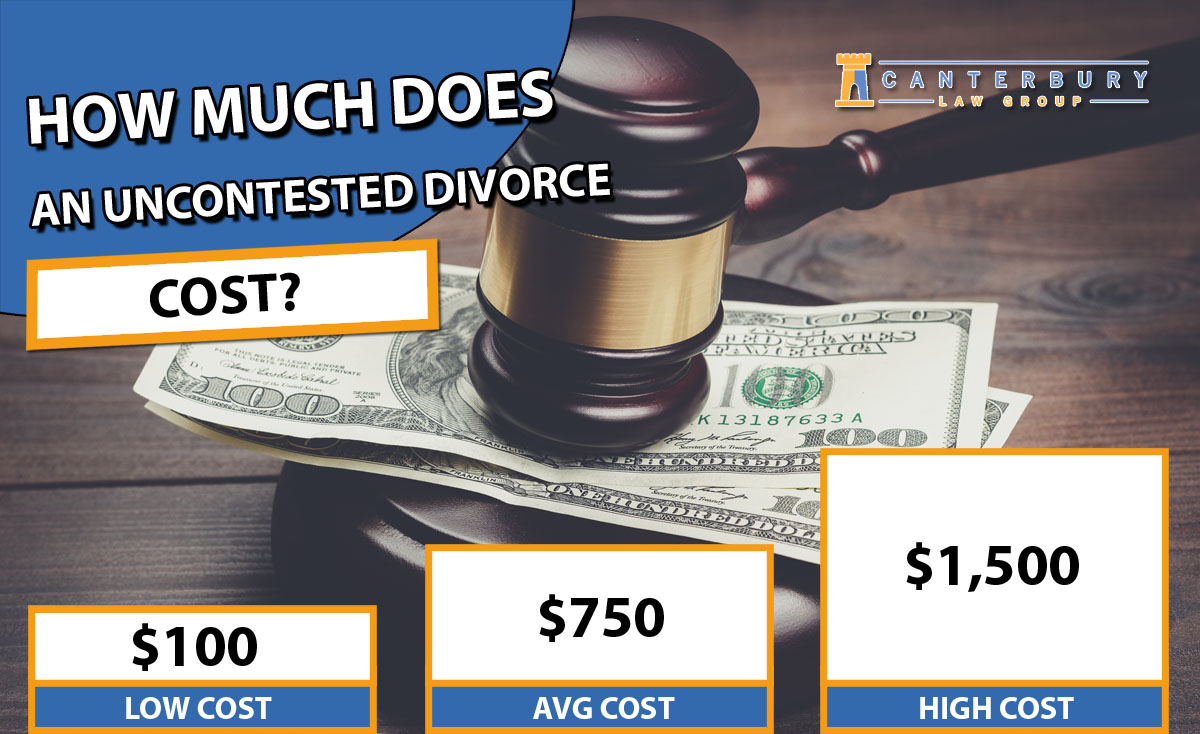 The average cost of an uncontested divorce is $750 with prices ranging from $100 to $1,500 for the US in 2019-2020.
A large amount of money can be saved if your spouse and you can agree to divorce, how the divorce will take place and how your lives are going to be separated. This situation often leads to what is known as an "uncontested divorce." The total cost will be determined by several aspects. If you have no issue with becoming a part of the legal procedures of your state, the cost may well be under $500. It will obviously be higher if you utilize the services of an attorney.
Uncontested Divorce
An uncontested divorce can be handy if the following has been agreed on by both partners:
How custody, parenting responsibilities and parenting time will be shared.
The duration and total amount of child support payments.
The duration and total of spousal support payments also known as alimony.
How all property will be divided.
How all debt will be divided.
Once all of these items have been agreed to, there is no need to take your arguments to court. The way to wrap up your divorce case is to file the required court forms as well as a "divorce settlement agreement" detailing the agreed arrangements for the aspects discussed above.  These papers can also be called a proposed "decree" and "joint parenting plan" if there are children.
DIY Divorce
When you have decided the best option is not to use an attorney – there are two choices open to you. For less than a few hundred dollars, you can usually purchase what is often called a "divorce kit" – a commercial product availably widely online – they will include all the required forms for the state you live in but it is important to know that despite this commercial paid option, most, if not all, of the mandatory forms are usually available without cost on judicial websites in your County. More often than not, they also come with instructions for filling the documents in correctly.
Cost of Uncontested Divorce With a Lawyer
When you have decided to use the services of a lawyer, the cost of a divorce that is uncontested will vary depending on the lawyer you hire, where you reside and the fee/payment arrangement. Flat fees are often charged by attorneys for cases of uncontested divorces. However, some attorneys prefer to charge retainer fees. These are deposits billed (usually on a monthly basis_ against the value of any services and hours that have been rendered in the case. Flat fees, depending on the complexity of your situation can run from $200 to about $1,500 per person. Retaining an attorney is likely to bring rates ranging from $250 to $450 per hour, billed against your initial deposit. Do not be surprised that attorneys in large population centers charge more money than attorneys in rural locations.
Additional Costs
Regardless of your methodology you can expect further court imposed costs. The state court will charge a fee for the filing of a divorce petition and you can expect to pay around $350. If you want to use the services of a private processor sheriff to deliver the petition to your former partner, you can expect to pay anywhere between $35 to $100. In most areas this fee can be waived if your spouse is amicable. They can sign off on a waiver of service indicating acceptance of the petition and this can then be filed with the appropriate court. Nonetheless, it is a wise idea to budget an additional $300 to $350 for additional costs you may encounter.
Other Divorce Options
Some other options on the table to help reduce the expense of an uncontested divorce include hiring legal services who will assemble and prepare the relevant paperwork on your behalf – usually with a price tag of around $300 to $500. You can pay an attorney by the hour for them to review the paperwork as well – hence avoiding a costly retainer charge for them to review pre-agreed and specified services.
Source: Bishop, Susan. "Basics of the Uncontested Divorce." Www.divorcenet.com, Nolo, 12 Sept. 2013, https://www.divorcenet.com/resources/divorce/basics-uncontested-divorce.htm.
See Also:
Need a Divorce Lawyer in Scottsdale or Phoenix?
We have a network of Arizona mediators, attorneys, tax specialists, estate planners, financial planners, child specialists, real property appraisers, adult and child therapists and parenting coordinators who are here for you if you ever need them. Our lawyers, divorce mediators and collaborative divorce attorneys in Scottsdale are here to make your divorce less stressful and keep you in control and costs contained. Call today for an initial consultation at 480-744-7711 or [email protected]. Our family lawyers can also help with divorce litigation, child custody, legal guardianship, paternity, prenuptial agreements, and more.
*This information is not intended to be legal advice. Please contact Canterbury Law Group today to learn more about your personal legal needs.